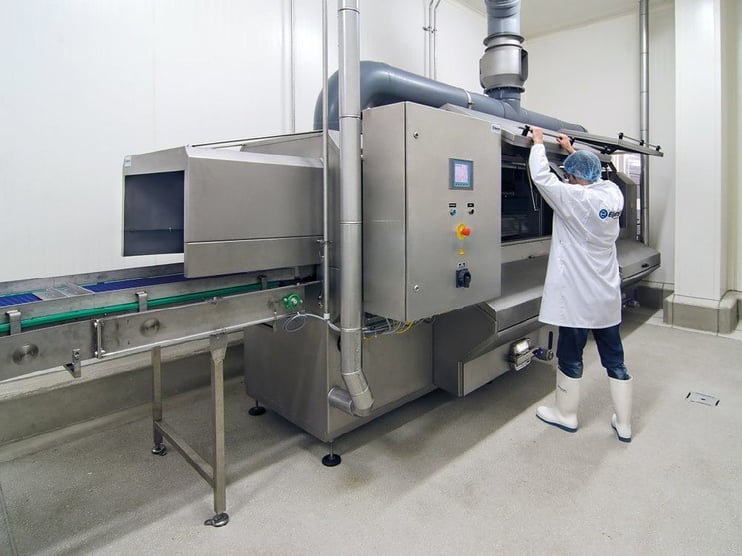 To be able to clean the load carriers you use in your production process well – such as crates – you can make use of an industrial washing system. Of course, that demands a lot of investment, but at the same time also provides for lower operating costs by achieving good water saving.
Good and careful cleaning of crates that you use during your production process: you simply cannot do without it. Clean crates – and also other load carriers – are, of course, a pure necessity to guarantee the food safety of your products. It goes without saying the washing crates within your business process is not limited to a few of them a day, it is very quickly worth considering investing in an industrial crate washer.
Water- and Energy-Saving
If you wash a large number of crates every day then an industrial crate washer is in most cases an absolutely important investment from an economic perspective. In fact, Elpress crate washers provide you with a nice saving in operating costs, by being incredibly water-saving and energy-saving. Incidentally, that applies to all industrial washing systems from Elpress, so also, for example bin washers, pallet washers, forklift wheel cleaner, box washers and utensil washers.
Durable, Efficient and Effective
Washing crates by hand consumes much more water per crate than washing with an industrial washing system. By using a crate washer, you then achieve a more sustainable operating process. Furthermore, the cleaning process is guaranteed to be more effective, more efficient and reproducible because every crate is washed in the same way in a controlled environment. Human intervention (care, working time and working effort) is no longer a decisive factor, which is the case with cleaning by hand.
Reusing Water
Saving water during the washing process is achieved by allowing the water to recirculate within the system, or by reusing it in the process. This is done using an innovative filter system and a cascade. The energy needed to heat up the washing water is directed towards the energy supplies present in your business, so that all your crates are washed saving as much energy as possible, and so a saving in operating costs can also be achieved.
More Information
Would you like to know more about the Elpress industrial washing systems? Then feel free to contact us – there's no obligation. Our specialists would be pleased to advise you!