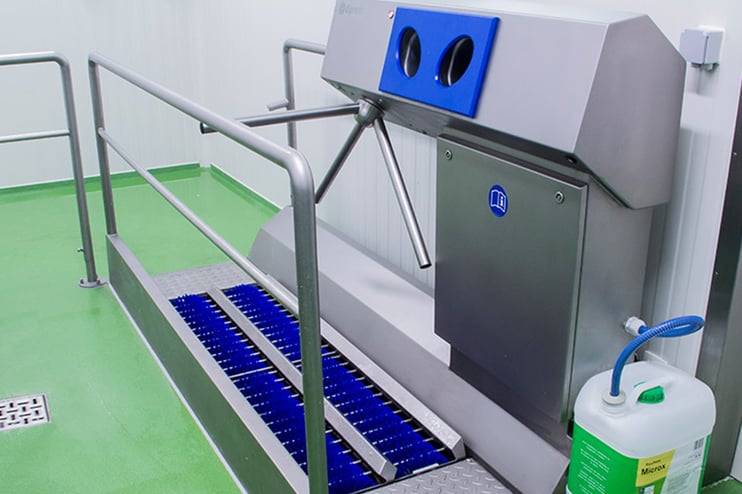 Naturally, you want a hygiene lock that perfectly matches your company's wishes and needs. In addition to the various options, Elpress also offers a range of extra options that may be of interest to your business.
Registration of persons and time at the hygiene entrance
The Elpress hygienic entrances, which are (usually) equipped with a turnstile, come as standard with the possibility to connect any person and time registration system. A badge allows employees to activate the hygiene lock and records when they enter and leave the production area. The lock cannot be traversed unless an employee logs in with a badge. The registration of persons is important in the event of an emergency. It shows you at a glance how many people are in the production area. A badge system is also useful in order to be able to record how long employees are in the production area and, for example, how long they take breaks for. This is an effective control system, especially when working with temporary workers. Moreover, working with the registration of persons prevents 'outside' persons from entering the production area.
Read more advantages of access control within the hygiene process
Recessed hygienic entrances
A standard hygiene lock is supplied as a surface-mounted model that - as the name suggests - is placed on the floor. An alternative is the recessed model: the lock is sunk into the floor. Advantages of a recessed model:
Hygienic finish

Hygienic finish: the lock is neatly sealed and no dirt can get underneath it. This also saves time when cleaning the room.

Ergonomically optimal

The lock is sunk into the floor and therefore has no step.
In existing business premises, installation is often not an interesting option because the floor has already been built. This option then often becomes expensive. In new buildings, a recessed model can be realised relatively easily and the additional investment is very limited. When choosing a recessed or surface-mounted model, it is important to consider future expansions as well. A recessed model cannot be moved or expanded at a later time. If you opt for a recessed model, it is therefore important to install a hygiene lock with a capacity that is capable of responding to future expansions.
Centralised chemical supply in the hygiene system
A sole cleaner can be connected to a centralised chemical supply. This is especially interesting if you have more than one hygiene lock. The chemical is supplied from a large central tank via pipes that run to the sole cleaners. The big advantage of this is that you do not have to refill each sole cleaner separately. Which saves time. Moreover, you have a better overview of the stock and you can purchase chemicals in bulk for a discount. A centralised chemical facility is even more interesting in economic terms if you also use an industrial cleaning system in your company to clean the premises. In many cases, you can use the same disinfection system with the corresponding pipes for the sole cleaners.
Which hygienic entrance is the best fit for your business?
Do you want to know which layout of the hygiene lock suits your company? Then fill in the Hygiene Selector. In five steps, you can quickly and easily see what your hygiene lock has to comply with. You will then immediately receive no-obligation, customised advice about a hygiene lock for your company.