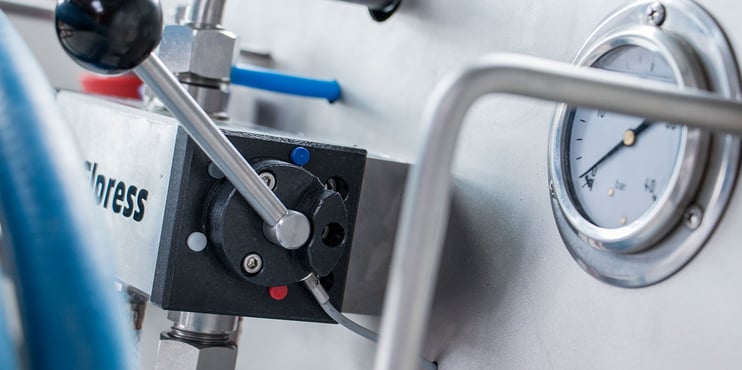 Optimal hygiene is obviously extremely important for companies that work with food. A good industrial cleaning system makes a vital contribution to achieving this. Are you looking to purchase such a system? Then start by examining the options.
The right industrial cleaning system is available for every business for effective cleaning and/or disinfection. In order to determine which system is best for your company, you first need to understand your specific situation. Answering the questions below will give you useful insights into this.
Questions for purchasing a cleaning system
A thorough orientation is the first phase in the process for purchasing an industrial cleaning system. In this phase, you should ask yourself the following questions:
Which areas have to be cleaned?
Determine how many work areas have to be cleaned and what type of work areas these are. Are they only production areas or do they also include, for example, loading docks and storage areas? And how large are these areas? Can all areas be cleaned in the same way or are different cleaning methods needed?
Which foods do you work with?
The products you work with determine the type and amount of dirt you have to contend with in your work areas. For example, do you have to deal with proteins, fats and/or blood residues? And is the dirt light or really stubborn? The type of foods you work with also determines whether you need to disinfect your work areas and equipment.
What does the production process look like?
Does production run 24/7? Or does production only take place during the daytime? Also: how much time is available for cleaning? And how often should cleaning be done? Is this necessary after each production batch or is once a day sufficient?
How do you clean your work areas?
Workers will need to be deployed for the cleaning process. Do you have your own cleaning staff available? Or would you prefer to outsource the process and bring in external manpower?
What facilities do you have on your premises?
Cleaning obviously requires water. Where are the water points located on your premises? Do you have anywhere you can place the pump and store chemicals if you opt for a centralised cleaning system? And where do you want to place the satellites in the work area?
Advice from Elpress
Once you have thought about these questions and formed an initial idea of the situation and your needs, the specialists at Elpress can give you sound advice on purchasing a suitable industrial cleaning system.
Would you like more information about cleaning systems?
Would you like to know more about industrial cleaning? Then download the whitepaper 'A total solution for industrial cleaning in the food sector'.