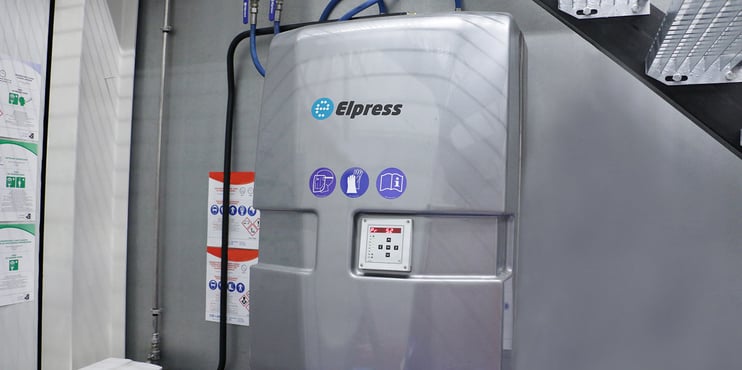 A hygienic cleaning process in the food industry essentially always makes use of foam cleaning. In a centralised system, this is done with a foam and/or disinfection unit. An important factor of foam cleaning is a good quality foam.
Foam cleaning – or 'foaming' for short – is the most important step in the hygienic cleaning process of machines and production areas in the food industry. Before this step, equipment, floors and walls are first pre-rinsed with water. The foam cleaning (and a second rinse) is followed – if necessary – by a disinfection step.
Foam and disinfection unit
In order to be able to carry out foam cleaning, a foam and/or disinfection unit is integrated into a centralised cleaning system. Depending on the type chosen, several employees can foam clean simultaneously or several people can foam clean and disinfect at the same time. The foam unit pressurises the mains water. Installing a break tank before the unit provides the system with an approved non-return device so that chemicals can never flow back into the public water network.
Efficient use of chemicals
Electric dosing pumps ensure that a constant percentage of chemical is dosed. This ensures efficient cleaning and safer use of chemicals. The average dose is 2 to 4 percent, depending on the type of chemical used. The chemical supplier can recommend the chemical suited to your specific cleaning process.
Good quality foam
The frequency-controlled Grundfos dosing pumps regulate the water pressure up to a maximum of 8 bar, which is ideal for foam cleaning. The foam is created by applying air pressure. It is important for the foam to be stiff so that it 'sticks', as it were, to the machines, floors and walls. It also enables the dirt to be effectively loosened. The longer it is allowed to work, the better the dirt is loosened.
Monitoring
Efficiency and sustainability are increasingly important factors nowadays. A foam and disinfection unit can therefore be optionally fitted with a so-called Washing Performance Monitor. This provides a clear record of water flow, chemical consumption, cleaning times and other relevant information. This form of monitoring makes it possible to clean even more efficiently and sustainably.
Would you like more information about cleaning systems?
Would you like to know more about industrial cleaning? Then download the whitepaper 'A total solution for industrial cleaning in the food sector'.