With a good hygiene lock, you can guarantee the personal hygiene of your employees and thus a hygienic production process. Of course, it's important to choose a lock that suits your company, tailored to the number of users and the desired hygiene process they have to go through.
A hygiene lock can be set up in many ways and therefore be perfectly matched to the wishes and needs of your company. In order to give you an idea of the various possibilities, Elpress has selected five real-world situations, each one realised on the basis of personal advice and, of course, completely tailored to the company in question.
Hygiene system example 1: Plukon Food Group
With a slaughter volume of 7 million chickens and 13 locations in the Netherlands, Germany and Belgium, Plukon Food Group is one of the largest players on the European poultry meat market. The large hygiene lock at the Maasmechelen site can accommodate more than 80 employees. The challenge here was a high throughput of staff. This was achieved by dividing the four main elements of personal hygiene (soaping of the hands, washing and drying of the hands, sole cleaning and hand disinfection) into different sections. Fast passage is made possible with 16 taps and 8 Dyson Airblades. With two access controls - after soaping and hand disinfection - a high standard of hygiene is guaranteed.
Check out the hygiene lock of Plukon Food Group here.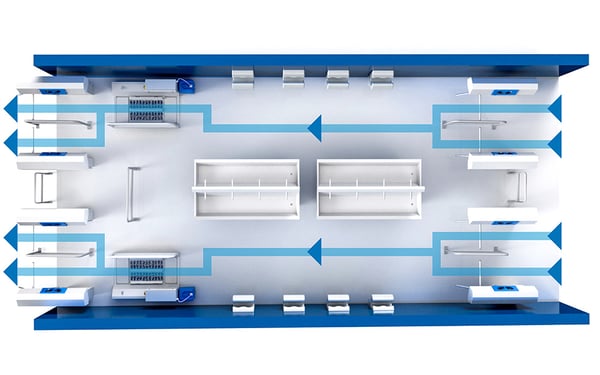 Hygiene system example 2:
Pringles Mechelen
More than a million of the familiar Pringles cans are produced in Mechelen, Belgium, every day. The hygiene lock installed here is a so-called 'high-end' lock, aimed at maximum hygiene. Controlled access obliges employees to wash, dry and disinfect their hands. In addition, their shoes are cleaned with brushes and then disinfected in a disinfecting bath. With the Dyson tap integrated in the washbasin, the hands are dried directly above the sink. As a result, residual water disappears directly into the washbasin. Because the locks have been built in, the whole arrangement is extraordinarily sterile.
Check out the hygiene lock of Pringles Mechelen here.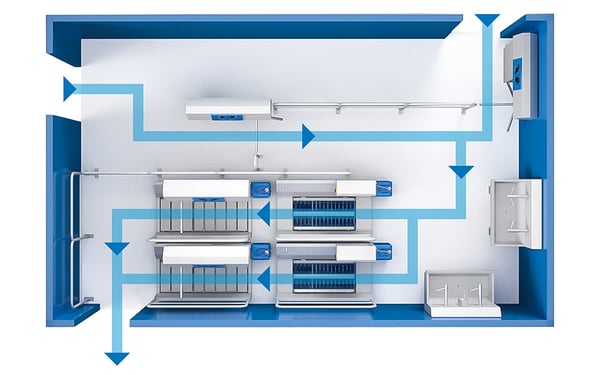 Hygiene system example 3:
Bart's Retail Food Group
At Bart's Retail Food Group - the company behind Bakkerij Bart - an extensive hygiene lock has been installed in a small space. Access is controlled by means of a turnstile during the soaping process. The wall-mounted soap dispenser saves space. After washing and drying the hands, the employee steps onto the sole cleaner with brushes and simultaneously disinfects the hands, after which a second turnstile grants access to the production area. This guarantees maximum hygiene.
Check out the hygiene lock of Bart's Retail Food Group here.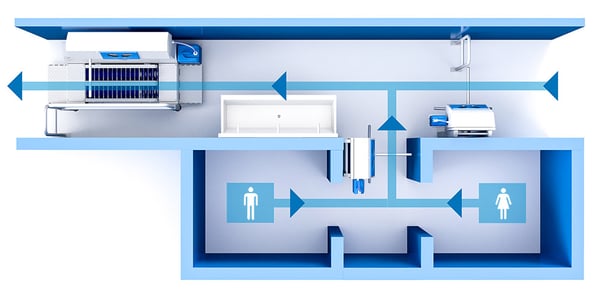 Hygiene system example 4:
Den Berk
Den Berk is a dynamic tomato farm, for which innovation, sustainability and quality are of paramount importance. Tomatoes are an infection-sensitive crop. A virus outbreak leads to a loss of production and can even result in the complete evacuation of the greenhouses. Additional bacteriological disinfection of the hands greatly reduces these risks. Chemical dispensers with a gateway to the production area ensure that staff can only enter the shop floor with sterile hands.
Check out the hygiene lock of Den Berk here.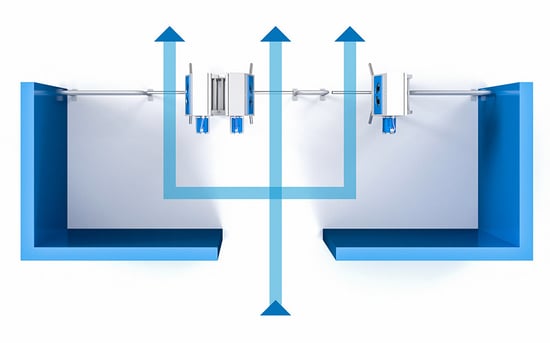 Which hygienic entrance is the best fit for your business?
Do you want to know which hygiene lock layout suits your company? Then fill in the Hygiene Selector. In five steps, you can quickly and easily see what your hygiene lock has to comply with. You will then immediately receive no-obligation, customised advice about a hygiene lock for your company.