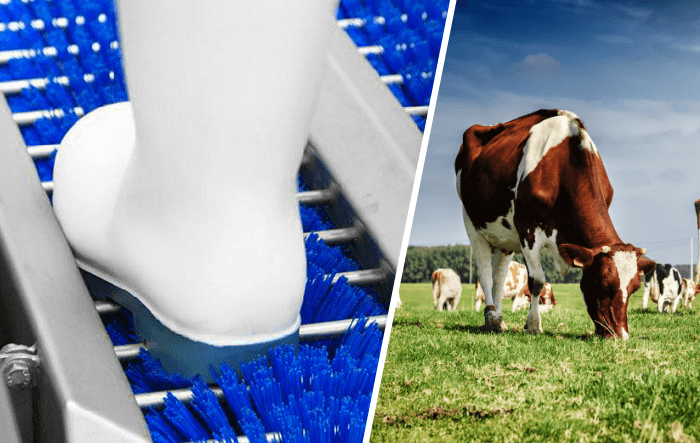 People are a significant source of bringing disease into intensive livestock farming. Also, through footwear, infectious disease can come into the shed and then infect your animals. So good sole and boot cleaning is essential.
First and foremost, it is important that shoes or boots that come from outside can never get into the shed. So, changing footwear before entering the animal enclosure is an absolute necessity. Leave outdoor shoes or boots behind in the 'dirty' section of the hygienic entrance after which the facility's own boots are put on in the 'clean' area.
EFFECTIVE CLEANING OF BOOTS
To be able to clean boots quickly and well, Elpress has various models of sole, shoe-edge and shank cleaners in the range. There is a suitable and efficient solution for any budget and any space. So the DZW is a user-friendly sole cleaner in which the soles are cleaned by running over rotating brushes. The compact version of this – the EZW – is suitable for small spaces. If you want to clean your footwear more extensively, then at Elpress you can also opt for equipment that also cleans the edges of shoes or a model that also provides for efficient shank cleaning. In all cleaners, adjustable dosing ensures that chemical spillage is prevented.
DISINFECT BOOTS WITH A DISINFECTION BATH
If you want to disinfect your boots before entering the shed, then you opt for DZD from Elpress. This disinfects soles using a disinfection bath. This bath is automatically topped up, which prevents excessive usage of disinfectant. After twenty-five passings the disinfection bath is automatically refreshed.
BOOTS CAN BE QUICKLY USED AGAIN
To be able to use cleaned boots quickly again, you can make use of boot dryers. Your boots can be easily hung up on this rack and be dried quickly by passing air over them. Optionally, you can also choose drying by means of ozone or drying with heated air. Elpress boot dryers are made of stainless steel. A dryer with stainless steel casing is also available so that the boots can be stored hygienically and out of sight.
CLEANING BOOTS AND WASHING OR DISINFECTING HANDS IN ONE GO
For hygienic entrances with limited space, you can opt for a hygiene station. This installation provides both washing of hands and cleaning soles. If you have more space and a higher available budget and you want to be able to clean soles quickly and efficiently, and disinfect your hands at the same time, you can opt for the DZW-HDT. The turnstile (access door) of this entrance ensures that good cleaning is guaranteed.
more information
Elpress is a specialist in the field of personal hygiene. We provide various options for cleaning, drying and disinfecting soles and boots so that there is always a combination products that perfectly fits within your hygiene management and your available budget. Do you want to know what the options are for your intensive livestock farm? Then get in touch with us for a no-obligation tailor-made recommendation or discover which hygienic entrance fits your facility the best by completing the scan.