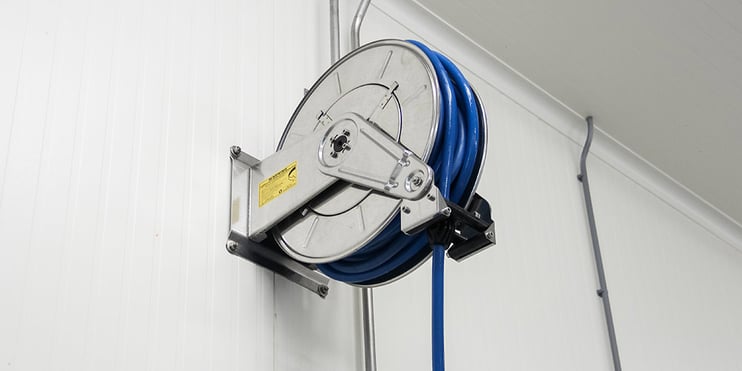 Elpress has a range of three types of professional hose reels of the brands Ramex, TeHa and Nederman. These are renowned makes that are often chosen, and which provide excellent products of high quality. The most important features of each reel? You can read about that here.
Ramex, TeHa and Nederman have long been famous names when it comes to supplying hose reels. Elpress has reels in its range under the names: EHR (Elpress Haspel Ramex), EHT (Elpress Haspel TeHa) and EHN (Elpress Haspel Nederman).
Safely working with EHR hose reel
The EHR hose reel from Ramex is a quality, excellent reel for a good price. This user-friendly, self-rolling hose reel can optionally be provided with a hydraulic safety brake. The safety system provides for a staged and constant roll-up speed of the reel. The rolling up speed is simple to adjust. The spring of the roll-up system is located in a closed cassette.
Select robustness with an EHT hose reel
The EHT hose reel from TeHa is a self-rolling hose reel with a robust form that guarantees a long service life. This reel is of equivalent quality to the EHR. However, the EHT is in a slightly higher price bracket.
Hygiene a priority with the EHN hose reel
The EHN hose reel from Nederman is a self-rolling hose reel in the higher price bracket that excels in hygiene. This reel has rounded angles and smooth surfaces and is therefore even better at cleaning. As well as a stainless steel design, the EHN can also be obtained in aluminium with a double coating. The EHN is also available as a plastic air hose reel with an eight metre long ¼ air hose.

All Elpress hoses are available in various versions and are suitable for various working pressures and applications. The hose lengths vary from 5 to 35 metres, depending on the type of hose that is used. The hoses can be used at both low and high working pressures (to a maximum of 200 bar for the EHR and EHT and up to a maximum 150 bar for the EHN). The maximum water temperature is 150°C.
More flexible with a wall unit
All hose reels can optionally be fitted onto a stainless steel wall unit. This means that the reel can be rotated to an angle of a total of 90° (45° to the left and 45° to the right). This provides even more flexible usage and particularly makes rolling up the hose even easier.
If the reel has to be fitted onto a system wall, a stainless steel mounting plate is needed. This plate serves as a counterplate for a stable fastening.
Service and maintenance for every brand of reel
If desired, Elpress shall provide a periodical service and maintenance of your hose reels and other components. In this, we don't limit ourselves to the reels from Ramex, TeHa and Nederman. Have you purchased reels of a different make before? Then we will simply include them in the maintenance.
More information about hose reels in your business?
Do you want to know how you can use hose reels safely and efficiently in your business premises? Our specialists would be pleased to help!