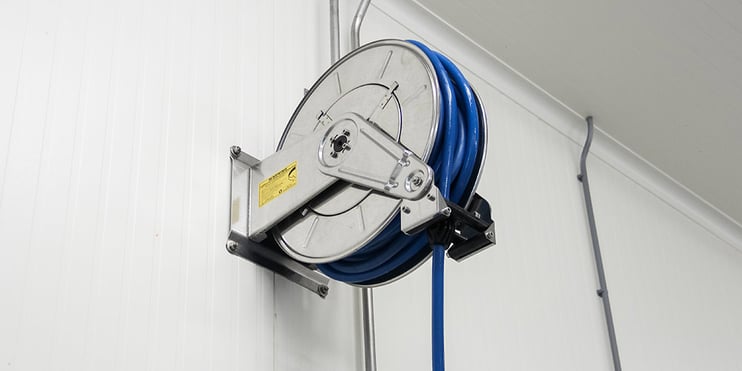 Cleaning work: it is not often someone's favourite thing to do, but it does have to be done. Certainly in the food industry. Cleaning has to be done there after every production batch and rinsing is often also done during production. Then you can then make the best of this chore and make it as pleasant and efficient as possible.
Using hose reels makes a considerable contribution to an efficient cleaning process. In particular, it works a bit faster and a bit easier.
Immediately ready for usage
Businesses that don't work with hose reels often have a separate hose cubicle or a rack where they store all the loose cleaning hoses. Whenever cleaning needs to be done, the hose then has to be taken out of the cubicle or off the rack and brought to the place where this can be connected to the mains network. Every time, it is a real drag. That unnecessarily takes time and labour. Certainly, if the hose seems not to be in the right place and it has to be looked for first.

With hose reels in the production room, this extra workload is a thing of the past. The hose is always nicely rolled up at the place next to the water supply and is always connected and is therefore immediately ready for usage.
Clean faster and more easily
Because a hose reel is hanging at height - often at a height of between two and three metres above the ground – cleaning is a bit easier. As a result, the hose particularly scuffs a lot less and often it is not even on the floor at all. Furthermore, the reels are hung at strategic points so that the hose does not have to be pulled around machines and also doesn't snag anywhere as easily. This means cleaning and rinsing can be done faster.
Avoiding damage caused by high pressure
Everything clean again? Then a slight tug on the hose is all you need to allow the hose to roll up on the reel automatically, quickly and efficiently. All you have to do is guide it. That is much better than manually rolling up the hose and then carting it off to the storage cubicle or hose rack.
Is a hose reel added value in your business?
The addition of a hose reel to the cleaning installation is a solution for many businesses. Using this checklist, you can discover whether a hose reel within your cleaning installation is added value for your business!
Do you want to know what the options are for a hose reel for your business? Then get in touch with us for a no-obligation, tailor-made recommendation that suits your budget.