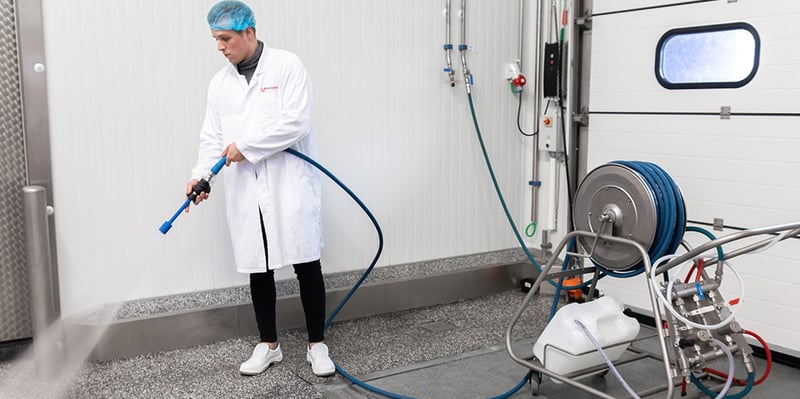 With a professional hose reel, your workers will be capable of cleaning production rooms quickly, efficiently and safely. But a reel is only one part of the cleaning installation. In this blog, we tell you everything you need for a complete installation.
Water supply and mains
Of course, a cleaning installation starts with the supply of water from the water mains. This needs to be brought to the desired temperature to be able to clean efficiently. Rinsing with cold water is also possible, of course. The water is brought by the mains to the place where cleaning has to be done.
Pressure-increasing installation with break tank
A pressure-increasing installation ensures that water is brought to the desired pressure, so that cleaning can be done effectively. Usage is made of a low pressure or a high pressure pump. Immediately before the pressure-increasing installation, a break tank is often installed, but a KIWA-approved valve is also sufficient. This prevents water flowing back into the public water mains. In a break tank, there is a water supply for around 1 minute.
Satellites
At the place where cleaning has to be done, a satellite is placed. Through this mains, the water is transported from the pressure-increasing installation to here. At this operating point, workers can choose whether to rinse, foam or disinfect. If you only do rinsing, then a satellite is not necessary.
Hose reel with hose
The hose reel is fitted to the satellite at a height of 2 to 3 metres above ground. As cleaning hose, you can choose an FDA hose (with a white inner sleeve) or an NBR hose (with a black inner sleeve). The cleaning hose has a maximum length of 25 to 30 metres to be able to ensure the foam quality and to make cleaning not too physically demanding.
Spray gun
A spray gun is fastened to the end of the cleaning hose. A high-pressure, low-pressure or foam spray gun can be chosen. At a working pressure of 20 bar, approximately 30 litres of water per person per minute is used, at a working pressure of 40 bar, this is approximately 25 litres. If both rinsing and cleaning is done, then a foam spray gun is chosen as standard. The lance on this can be changed so that the correct lance for both foaming and rinsing can be inserted.
More information about hose reels in your business?
Do you want to know how you can use hose reels safely and efficiently in your business premises? Our specialists would be pleased to help! Just get in touch with us for no-obligation tailored advice or discover which hose reel best suits your business by filling in the scan.