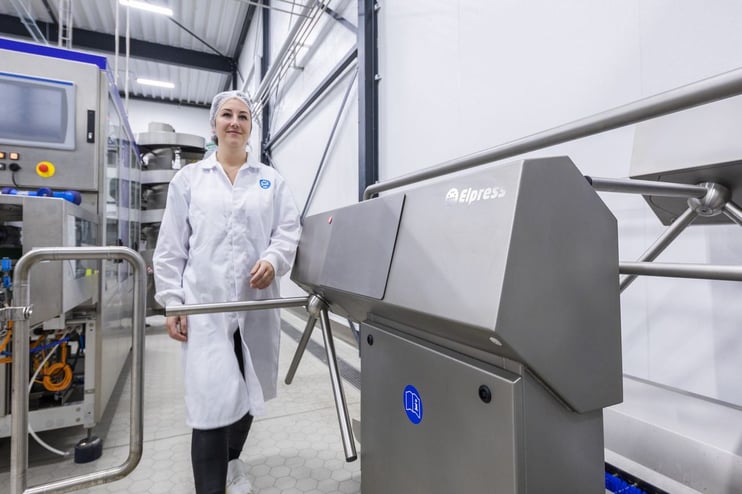 With a hygiene entrance, you prevent illnesses and bacteria from getting into the industrial process. But to prevent this, it is important that you not only use the hygiene entrance, but also clean it every day. You can read how to do that in this blog.
Actually to keep a hygiene entrance 'hygienic', a daily cleaning routine is a must. If you don't do that, then dust from boots and shoes gets into the entrance and bacteria will grow here. Also, if soap residues are left behind then rust will form. Daily cleaning and a visual check of operation ensures that your hygiene entrance will have a long service life, which prevents faults and, last but no least: it ensures that bacteria has no chance of getting into your industrial process.
Daily cleaning steps
After every production day (or in the case of 24/7 productions at a fixed time of the day) is time for the cleaning routine. This consists of the following steps:
- Removal and cleaning of brushes, cleaning the basin where the brushes are and then putting the brushes back. This part may be cleaned under high pressure with foaming agents, so that the room in which the entrance is located will be cleaned as well.
- Emptying and cleaning the disinfection bath (possibly with high pressure). At the start of the new production batch, this is filled again with fresh disinfection agent.
- Cleaning the hand section with a wet cloth (cleaning agent is generally not needed). It is important to remove soap residues well to prevent rust from forming. Only use a wet cloth and certainly no high pressure, due to the sensors and electronics that are there.
- Checking the chemical supply, looking at whether there are any leaks and a visual check of the operation of the hygiene entrance. If there is a defect or fault, the relevant parts need to be replaced.
- Cleaning the room (and particularly the floor) in which the hygiene entrance stands.
Hygienic design
The daily cleaning routine of the hygiene entrance takes approximately quarter of an hour to at most half an hour. This being able to be managed quickly has to do with the hygienic design of the hygiene entrances of Elpress. The design ensures that bacteria cannot easily get established. So, for example, the hygiene entrance is designed of ceramic blasted stainless steel with a very low surface roughness. Furthermore, the top is sloped so that no water can pool on it. Furthermore, the construction is moulded as one piece as much as possible, to restrict seams and gaps as much as possible, and the entrance has rounded corners and sealed or solid pipes.
Parts in stock
When your hygiene entrance needs to go through its annual maintenance, then you minimise the chance of faults and defects. But, of course, it is always possible that something breaks or is no longer working properly in the meantime. Often, you can solve a defect yourself or easily replace the part. To prevent the hygiene entrance from being unable to be used temporarily – and as a result perhaps even risking the continuity of the industrial process – we advise you to keep certain parts in stock yourself. These could be return valves, nozzles, sensors, restriction plates, a dosing pump and solenoid valves. Tip: record on a maintenance card or in a log book when you replace a part. This prevents newly installed parts being replaced preventively during annual maintenance.
More information
Do you want to know more about daily cleaning of your hygiene entrance? Then feel free to contact us – there's no obligation. Our specialists would be pleased to advise you!