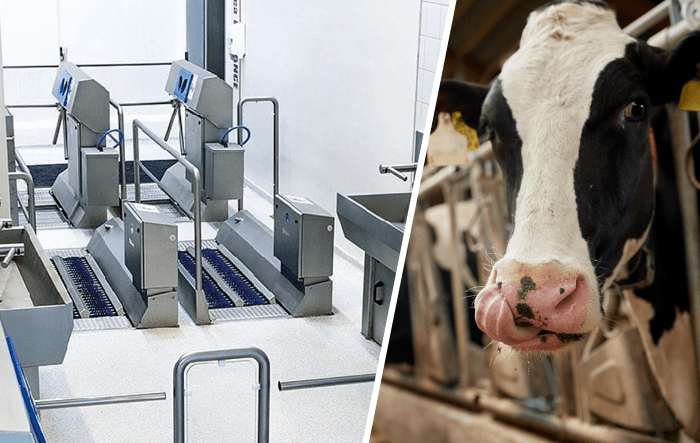 To limit the risk of infectious germs getting in, it is essential that you create a strict separation between the dirty and clean space in your hygienic entrance. This is relatively simple to do.
PHYSICAL SEPARATION BETWEEN DIRTY AND CLEAN
Carefully plan the space where you want to put your hygienic entrance. It is important that there is a separate entrance and exit, ensure that the same door does not have to be used. Incidentally, that would make it impossible to separate the dirty and clean spaces from each other. Ensure that a physical separation can be made between the dirty and clean area. A walkthrough shower is the most optimal physical separation, but a bench or plank – with a sill underneath – which has to be stepped over is also sufficient.
THE CORRECT PROVISIONS
A walkthrough shower is logically the most optimal provision for personal hygiene in an agricultural facility. Every visitor can then be completely washed within the shed. As an alternative, you can also opt to put in a washbasin or wash trough with hot and cold water where the hands can be washed with soap and then disinfected. This washing facility needs to be created both in the dirty and the clean area to ensure a strict separation between inside and outside. As well as a hand-washing facility, items such as a coat rack, locker room and a provision to wash and disinfect boots need to be present. Do you want to know which provisions you actually need for a complete setup of the hygienic entrance? Then read in our blog: You need these provisions for a hygienic entrance in intensive livestock farming.
EASY-TO-CLEAN ROOM
Tiled walls and floors or coated walls and floors make effective cleaning possible. Also do not forget setting up two scrubbing pits – one in the dirty part and the other in the clean part – and ensure that the floor slopes enough so that is no standing water.
Elpress is a specialist in the field of personal hygiene. Do you want to know what the options are in this area for your agricultural facility? Then get in touch with us for a no-obligation, tailor-made recommendation that suits your budget, or download our special brochure.