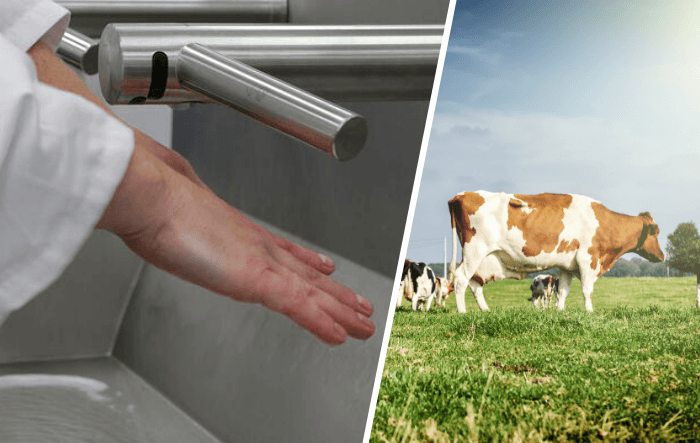 Limiting the risk of bringing in infectious germs into your shed can be done excellently with good personal hygiene. Good facilities for washing, drying and disinfecting hands in the hygienic entrance provide absolute added value to this.
A walk-through shower is the ideal way of guaranteeing good personal hygiene. However, this is not compulsory and, instead of this, good facilities for washing, drying and disinfecting hands are an excellent alternative. Elpress provides various options to achieve this in your hygienic entrance.
HYGIENICALLY-DESIGNED WASHBASINS
The ergonomically-designed Elpress washbasins are sensor-controlled or can be operated by the knee. Both the sink and the tap are made entirely from stainless steel. Due to the slim design, bacteria have no chance and the sensor operation also reduces the risk of infection. As well as the standard washbasin, Elpress also has a deluxe version. This has a round finish. The sensor-controlled version has legionella prevention by means of automatic rinsing 24 to 78 hours after it was last used.
WASH TROUGHS FOR SEVERAL PEOPLE
Whenever several people have to be able to wash their hands, a wash trough - with sensor control or knee operation – is a sensible choice. If you want to have a good approach immediately, then you can opt for a wash trough with integrated hand dryer. This version is provided with sensor control and legionella prevention as standard. The hands-free operation provides maximum hygiene. Immediately after washing, you can dry your hands with the Dyson Airblade Tap integrated into the tap. Just like washbasins, Elpress wash troughs are manufactured completely in stainless steel and they are hygienically formed so that infectious germs do not have a chance.
FACILITIES FOR SOAP AND DISINFECTANT
You can set up next to your washbasin or wash trough a stainless steel or plastic soap dispenser with manual dosing or opt for an infrared soap dispenser that doses automatically. If you want to be sure that all those entering the shed wash or disinfect their hands well, then an automatic chemical dispenser with a turnstile is an option. This turnstile – often an access door – is only released if the hands are put into the cylinders of the dispenser and the sensors have activated spraying of soap or disinfectant.
DRYING HANDS: WITH AIR OR WITH PAPER
The fastest and most hygienic way of drying hands is by using an automatic hand dryer. For this, Elpress provides the energy-saving Dyson Airblade. If this is not within your budget, then drying hands with paper is an alternative. Elpress has two versions of paper dispensers in the range. We also supply open or closed paper baskets and -tubs for putting the used paper in.
COMBINING HYGIENE MEASURES
If you have less space available, then you can opt for a hygienic entrance you can use both to wash your hands and clean the soles of your boots. The brushes of the sole cleaner are activated by gripping the handle. With the DZW-HDT, you can also opt for a combination of sole cleaning and hand disinfection. This happens at the same time, after which the turnstile is released.
more information
Elpress is a specialist in the field of personal hygiene. We provide various options for washing, drying and disinfecting hands so that there is always a combination of products that perfectly fits within your hygiene management and your available budget. Do you want to know what the options are for your intensive livestock farm? Then get in touch with us for a no-obligation, tailor-made recommendation.