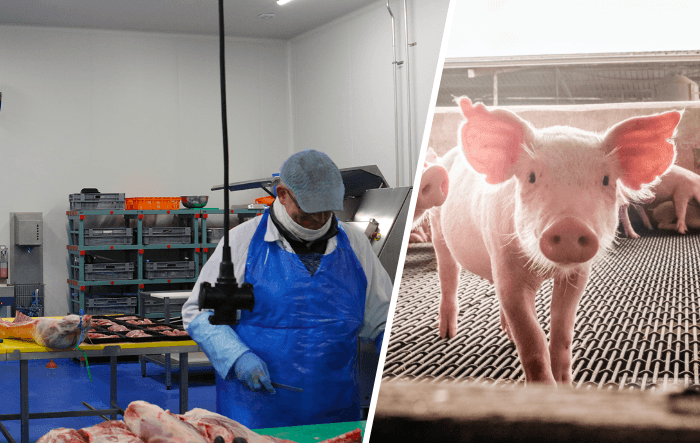 At the moment (summer 2020), African swine fever seems to have peaked, but the virus will always present a threat to pig farming. To keep African swine fever – and also other diseases – at bay, good hygiene protocols are a must.
The high level of vigilance is still being maintained and that is important: the risk of bringing in African swine fever has certainly not passed. The Dutch pig sector always needs to be extra alert. Good biosecurity – or hygiene management – is the most important weapon against African swine fever. Human action is the most significant risk factor with regard to bringing in African swine fever.
ENSURE GOOD HYGIENE MEASURES IN THE PLANT
As a pig farmer, you can take your responsibility by ensuring that everyone entering the farm keeps to strict hygiene protocols. So this also applies to yourself and your employees. To do this, pay attention to the following measures at your facility:
Only allow someone to enter the farm if this is really necessary and record every visit in a log book.

Every visitor to the shed must strictly apply the hygiene measures: preferably showers before they enter the shed or in any case washing and disinfecting hands well.

Provide clean work clothing, and cleaned and disinfected work boots.

Absolutely no foodstuffs must enter the shed. Food may only be consumed in the area duly provided (outside or in the canteen).

Visitors coming from a country where African swine fever prevails may not be permitted into the facility.

Ensure that those entering the farm and also your local or foreign staff are aware of the risks of bringing in the disease. NVWA and POV have folders and pamphlets on this available in various languages.

Clean and disinfect virtually all provisions and materials in your facility.
PAY ATTENTION TO TRANSPORT
Record every transport – of animals, feed and materials – that come into your facility in a log book.

First of all check whether the transport vehicle is visibly clean. Residues of muck or dirt may be visible.

Ask the driver when the vehicle was last disinfected and ask to see the cleaning and disinfection booklet. This states when the vehicle was last cleaned and disinfected at an official cleaning and disinfection place. Also pay attention to the signature and stamp of the cleaning and disinfection place.

Check whether the lorry has been properly cleaned and disinfected before transporting away animals.

Lorries that supply feed or materials need to remain as far away as possible from the shed. Under no circumstances may the driver have access to the animals.
RISK OF INFECTION FROM WILD BOAR
Does you shed have an outdoor run for the pigs and do you live an area where there are wild boar? If so, then ensure there is a good fence around your shed so that wild boar can never get close to your animals. Also ensure that people do not throw any waste food into where your animals are staying. Pests can also allow African swine fever to get into your facility. So good pest prevention and control is absolutely necessary. You can take care of this yourself, but you may also call in a KPMB-certified company.
more information
Elpress is a specialist in the field of personal hygiene. Do you want to know what the options are in this area for your pig farm? Then quickly fill in the special scan.