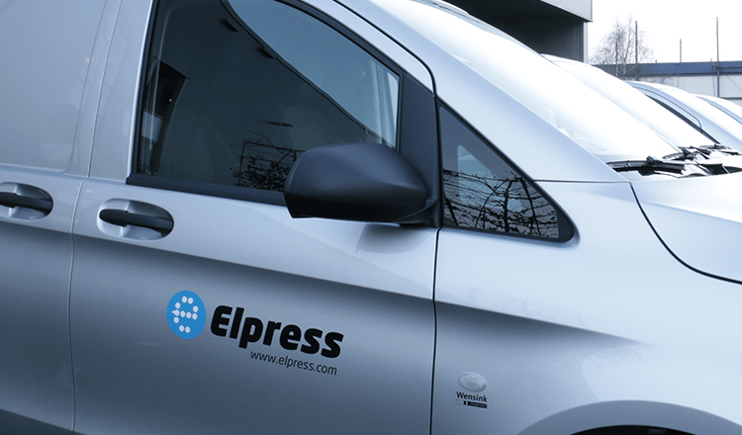 Because production areas in the food sector are cleaned on a daily basis, it is vital that your cleaning materials are in good condition. With the service van, Elpress ensures reliable, regular maintenance and can deal with defects in no time at all.
Continuity is important for every company in the food sector. When the production process comes to a standstill, this has a direct and often financial impact. It is therefore important for all aspects of the process to run smoothly, including cleaning activities during and after production. Without proper cleaning, a new product batch cannot and must not be started.
SERVICE IN CASE OF DEFECTS
If a cleaning hose is broken then Elpress can come to your rescue with the service van. So your employee doesn't have to search for someone to repair the hose. This can save a lot of wasted time. The service van holds various types of hose, so that your hose can be repaired or replaced quickly on site. That's clearly ideal, but Elpress would also like to give you the following tip: always keep a spare hose at work. If a hose breaks, you can connect the spare hose right away and the cleaning process can continue without delay.
REGULAR MAINTENANCE
Regular maintenance of your cleaning hoses and all related components is far from being a superfluous luxury when it comes to preventing defects. The service engineer of the service van then checks all reels, hoses, spray guns and other related components, and can carry out repairs or replace hoses on site. The van is also equipped with a pressing system that can press sanitary couplings onto hoses with a diameter of up to ¾ inch.
The frequency of the regular maintenance is determined by mutual agreement. In many instances, such maintenance visits are planned shortly before the regular major cleaning visit, so that all materials are ready and waiting in advance of this cleaning process.
MAINTENANCE REPORT
HACCP-certified companies – including those with similar hygiene certificates – must present a maintenance report for their machines during an inspection. This applies not only to the production machines but also to the cleaning materials. For this reason, Elpress can supply a maintenance report if necessary for each regular maintenance event. This completed checklist lets you prove that your cleaning materials have been checked by a specialist.
MORE INFORMATION
Would you like more information about our service van and the service and maintenance contracts?
Then feel free to contact us – there's no obligation.