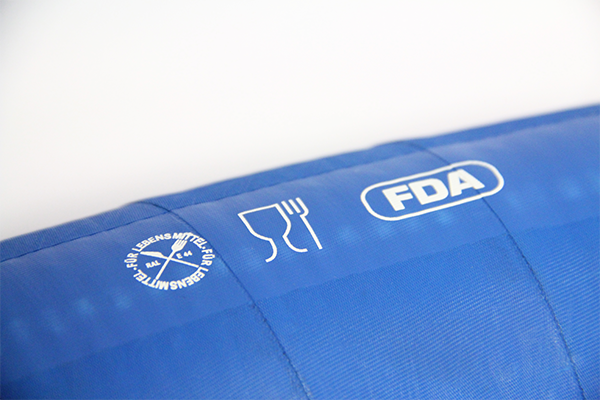 Dairy products – primarily amongst them milk – are transported at low pressure and at relatively low temperatures. Of course, the hoses that are used for this should be properly cleaned so that the products can be hygienically transported.
Elpress has two food grade hoses with FDA and EU certification in its range that are especially suitable for the loading and unloading of dairy products and are also frequently used in the food and beverage industry:
The Alikler is a hard-wearing food grade hose suitable for food up to a temperature of 100 degrees Celsius. This hose is made from NBR rubber. The inner wall is white and smooth and has an incorporated spiral. The outer wall is the usual blue colour.
The Blue Food Flexwing 2 is suitable up to 70 degrees Celsius. The hose has NBR3 rubber on the inside. In addition, the Blue Food Flexwing hose has a fast delivery rate and can withstand higher pressures than the Alikler. However, this is irrelevant to the transporting of dairy products as low pressure is always used for these.
EASY TO CLEAN
Milk and other dairy products generally have a very high fat content. Consequently, the fat layer adheres to the inner wall of the hose. It is important for this layer to be effectively removed when cleaning the hose so that you can continue using the hose hygienically and stop germs dead in their tracks. Because the inner wall is resistant to the necessary cleaning agents and can briefly tolerate high temperatures, the hose can be effectively cleaned with steam up to a maximum temperature of 110 degrees Celsius.
MILK TANKER HOSE
Handy information: food grade hoses that are used to transport dairy product are referred to as milk tanker hoses. A milk tanker is used to collect the milk from the farm. The hoses that are used to load and unload the milk are therefore referred to as milk tanker hoses.
Apart from loading and unloading the milk, these hoses are also used in the production process of dairy products. The hose is used at points in the process where a stainless steel line cannot be used.
Contact
Do you have a question or would you like to receive more information about our services or our products, please feel free to contact us.