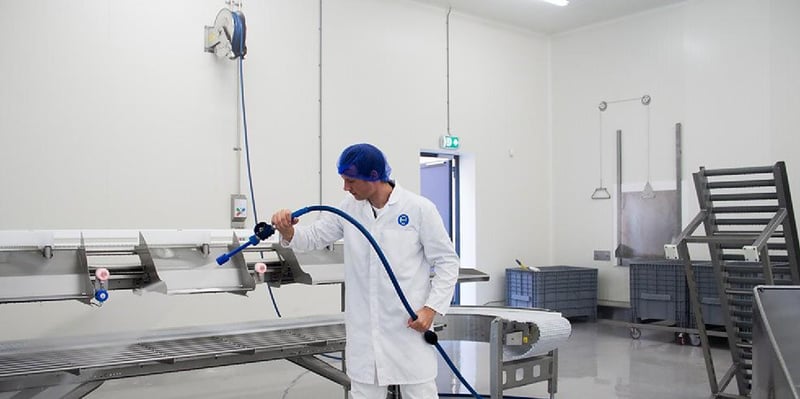 Working in the production process in the food industry is often physically-demanding work. That is why it is important to ensure good ergonomic working conditions. This is also during the cleaning process.
Cleaning of the production room(s) and machines is a task you have to do every day. Cleaning often has to be done several times a day and – for example when processing vegetables and fish – in between, water has to be sprayed regularly to remove food residues. By making use of hose reels, less labour is demanded of the worker and cleaning can also be done more quickly and more efficiently.
Hoses always in the right place
Whenever use is made of hose reels, the cleaning hoses are always automatically in the right place or cleaning can be started immediately. So hoses no longer have to be moved any more. A work-intensive chore that, of course, no single worker is pleased about. Also, hoses no longer have to be stored in the hose cubicle or on the hose rack, but they can simply be automatically rolled onto the reel.
Less effort needed for cleaning
Because the reels are installed at height, the hose doesn't or hardly ever drags over the ground. This ensures that much less labour is needed during the cleaning process. Furthermore, the reels are put in strategic places in the production room so that the hose no longer has to be pulled around, over or under machines. The heavy hauling and pulling work is therefore absolutely a thing of the past with a hose reel.
No hoses 'in curls' any more
It's all too familiar to everyone: a loose garden hose almost always goes 'into curls'. These then have to be taken out of it manually, which is often a simple operation. This also happens with loose cleaning hoses in the food sector. However, because they are thicker and heavier hoses, getting the curls out can be quite a burden on the wrists. A hose reel prevents a hose from going its own way and getting into a curl.
Is a hose reel added value in your business?
The addition of a hose reel to the cleaning installation is a solution for many businesses. Using this checklist, you can discover whether a hose reel within your cleaning installation is added value for your business!
Do you want to know what the options are for a hose reel for your business? Then get in touch with us for a no-obligation, tailor-made recommendation that suits your budget.