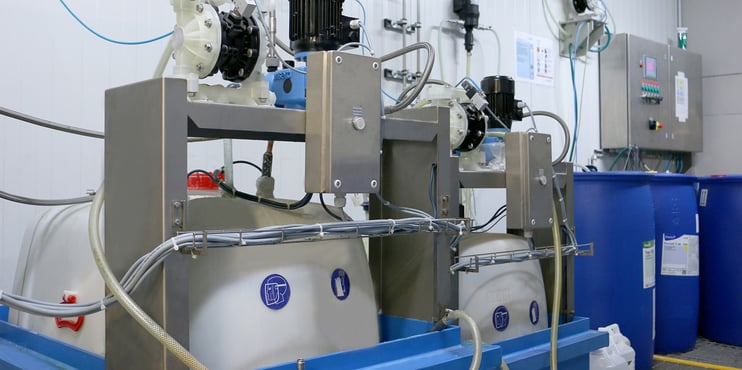 Do you want to purchase an industrial cleaning system for your business? Then don't just focus on the present but also look to the future. Growth in the forecast? A cleaning system can be expanded in the future, but perhaps a one-off investment in overcapacity is the best choice.
You have a business in the food sector. It requires an industrial cleaning system with a certain capacity. But what is the right capacity for your circumstances? It makes sense to look not only at the current size of your business but also to expected growth in the coming years.
Investing in a pump with overcapacity
Do you already know for certain that you want to expand in the not too distant future? Then you should mention that when purchasing your industrial cleaning system. Because it might be financially more attractive to invest in a pump with overcapacity. A larger pump actually makes it possible to expand the pipe network even further in the future, to install more satellites and to allow more employees to make use of the system at the same time. If you opt for a smaller pump, this will be to the detriment of the working pressure when the pipe network becomes too long or if too many people want to clean at once.
Second pump
Are you not focusing on growth at the moment and don't want or are unable to invest in overcapacity? No problem. Will an extra production area be added at some point? If so, it is always possible to install a second pump here. Or to replace the present smaller pump with a pump of higher capacity. The best choice ultimately depends on your situation. Are many metres of new piping needed to be able to use the larger pump in the first shop for the second shop? Then investing in a second pump may be more attractive. The specialists of Elpress can advise you specifically about the possibilities.
Elpress gives you personal advice about cleaning systems
Are you looking for an industrial cleaning system that suits your business? Then request a no-obligation, tailor-made advice.