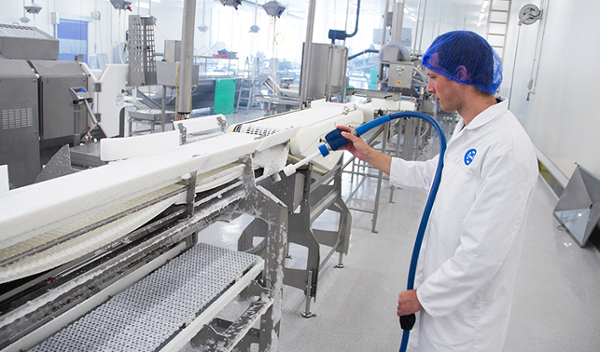 At the end of each production day or production shift at a company in the food industry, the machines and production areas are thoroughly cleaned, as you would expect. It is important to use good materials for his – such as a good NBR hose – so that the cleaning is thorough and efficient.
The NBR cleaning hoses of Elpress are made from Trelleborg NBR/SBR rubber (type 681) and have a black inner wall. The hoses are excellently suitable for cleaning at high pressure, but can also be used very well at low pressure. The hoses have antimicrobial protection. Since these hoses are not FDA certified, they cannot be used for ad-hoc rinsing procedures during the production process, but must only be used at the end of the production day. The water used does not come into contact with the food.
DIFFERENT TYPES OF HOSE
Elpress has various types of NBR hose in its product range: LP, MP and HP:
This hose is very flexible and lightweight and has a smooth inner and outer wall made from PVC. It is ideal for use in abattoirs, breweries and other food-related companies. The hose has a woven textile layer and the maximum working pressure at a temperature of 20 degrees Celsius is 80 bar. At a maximum temperature of 70 degrees, the maximum working pressure is 40 bar.
This hose with textile layer has an extra-thick smooth outer wall, excellent flexibility and a high degree of kink-resistance. This type of hose is also very resistant to high temperatures (up to a maximum of 120 degrees Celsius).
This type of hose is suitable for industrial applications with significant wear on the outer wall. This hose has a woven steel layer that makes the material extra resistant to wear. The hose is suitable for water at a maximum temperature of 150 degrees Celsius (steam cleaning) and ideal for high-pressure cleaning.
BLUE OR YELLOW
The NBR hose from Elpress is available in two colours: blue (Trelleborg type 681, MD-Blue) and yellow (Gauntlet, MD-Yellow). The most commonly used colour in the food industry is blue. Precisely for these reasons, specialist cleaning companies operating in the food industry often opt for yellow hoses. They work as external service providers in various food companies and in this way can easily identify their own hoses from those used by the companies themselves.
A company will sometimes opt for two colours of hose to distinguish between rinsing hoses (with water only) and foaming hoses (with chemical). Another reason for choosing two colours of hose is to distinguish between different departments within a company, e.g. a medium-care and a high-care department. This can prevent cross-contamination between two separate areas.
WHICH NBR HOSE IS SUITABLE FOR YOUR COMPANY?
Do you want appropriate advice about the right NBR hose for the machines or production areas of your company? Our specialists would be pleased to help!