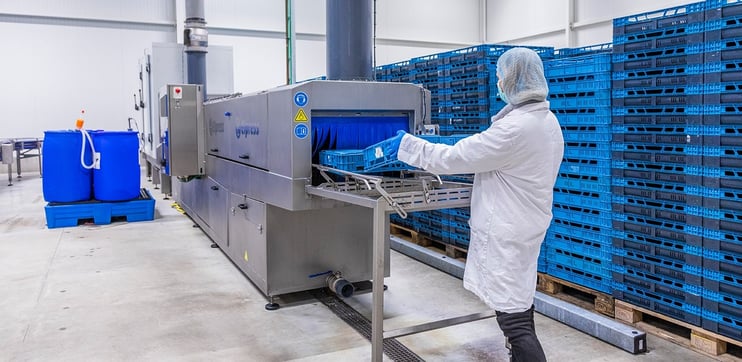 Working hygienically is essential for your business. So that you can supply safe products. Naturally, you follow the HACCP guidelines to do so. More and more quality managers in the food industry are taking a new step: they are also focusing on ISO 22000 certification. What exactly does this certificate entail? What are the benefits? And how does a crate washer affect this certification? This blog will tell you.
What does the ISO 22000 certificate mean?
With ISO 22000 certification, you are showing that your company complies with applicable food safety laws and regulations. ISO certification is internationally recognised and independent. It is based on HACCP guidelines and the quality management principles of ISO 9001. As a company, you can decide whether you want to obtain the ISO 22000; it is not compulsory. But very interesting, especially if your business operates internationally, or is going to expand to other countries.
What is the difference between the HACCP guidelines and the ISO 22000 certificate?
The HACCP guidelines focus purely on food safety. The ISO 22000 certificate goes a step further: it also looks at business processes and company structures; how a company ensures and test ensures and tests hygiene and quality.
What are the requirements for ISO 22000 certification?
For ISO 22000 certification, your organisation must, among other things (the exact requirements are in the NEN-standard):
Have carried out a context analysis;

Have set up a food safety management system food safety in which the various procedures are safeguarded;

Have drawn up a pre-requisite programme based on flow charts and a hazard analysis;

Have a management team involved in the ISO 22000 standard;

Have a food safety team leader who is part of the management team and the food safety team.
Clean boxes part of food safety
Food boxes should be clean (free of dirt, bacteria, stickers and glue residue) and whole. There are special cleaning machines for this: crate washers. These clean the boxes thoroughly and detect broken boxes and remove them (automatically or after being signalled by employees). By themselves, these systems have a lot of added value for complying with food safety laws and regulations.
Elpress' crate washer with visual inspection
Automatic visual inspection of all sides of the boxes adds a handy touch. Cameras and software guide the inspection process. Pictures of specific spots in the boxes function as signalling and input for optimisation. This intensifies hygiene control ( greater and better visibility with less manpower), the washing process is automatically adjusted based on the results and cleaning reports can be shared with customers. And with auditors. A win-win-win-win.
Impact of the crate washer and visual inspection on ISO 22000 certification
The data, photos and reports give a clear insight into the hygiene and quality of the boxes going through the box washer. Such as the parts of boxes where dirt often accumulates, the percentage of broken boxes and the percentage of boxes clean in one go. This allows you to visualise food safety inputs, outputs and actions by your company. And supports your company in the display and optimisation of business processes and the assurance and testing of hygiene requirements. All direct information that is highly relevant for ISO 22000 certification.
Want to know more about setting up a food-safe hygiene process?
With efficient cost-saving and data-generating crate washing equipment and business processes that comply with ISO 22000 quality requirements, you take a big step in maximising food safety within your company. Want to know more about setting up a food-safe hygiene process and complying with HACCP and ISO-22000 guidelines? Then download the whitepaper "About setting up a food-safe hygiene process".