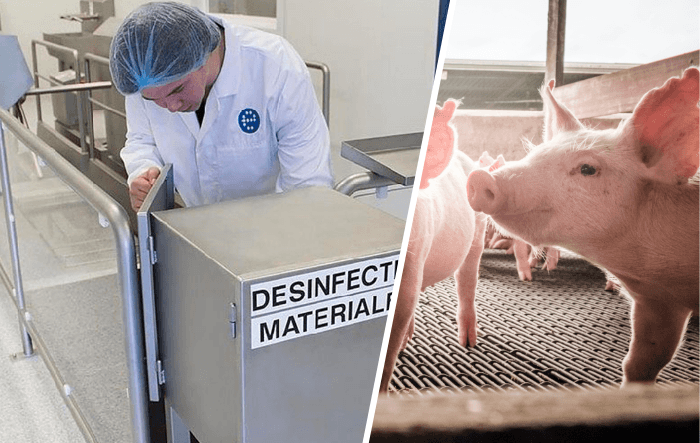 In the past few years, the agricultural sector has made strides in the area of hygiene measures. Since the outbreak of various diseases over the past decades, good hygiene is a must to be able to run your business successfully. We list the most important points for attention for good hygiene in an agricultural facility.
1.

PREVENT SPREAD OF INFECTIOUS GERMS BETWEEN ANIMALS
To prevent infectious germs between animals and/or groups of animals, it is important to isolate the sick animals as much as possible and ensure that the infectious diseases are not moved to another department. So this means that after entering an infected compartment, you and your employees may not go through the next compartment without special measures (such as changing clothes and disinfecting). After moving animals, the passages and materials used need to be cleaned. When delivery animals, 'all-in-all-out' has to be applied as much as possible. Animals must always be supplied using the delivery area whereby the transporter may not enter the clean part and you (or your employee) remain within the clean part.
2.
ENSURE THAT VISITORS TO THE STALLS DO NOT BRING ANY INFECTIOUS DISEASES WITH THEM
All persons who enter your shed need to do so through the hygienic entrance. In this way, there must be a clear separation between the 'dirty' and 'clean' area. Changing clothes is compulsory, as is cleaning and disinfecting hands and boots. However, showers are preferable, both when entering and leaving the shed. The shed is only entered in the facility's own clothing and footwear. Your own clothing, footwear, watches, jewellery, and preferably also mobile phones, are to be left behind in the 'dirty' part. Note: you too and your employees come under the term 'shed visitors'. Every time a person enters the shed, the name, date, time, vehicle registration number and the reason for the visit are mentioned in a log book.
3.
ENSURE A GOOD PEST PREVENTION AND CONTROL PLAN
Pests can provide for bringing in infectious germs. Prevent pests by maintaining the area around the shed well and keep them tidy and ensure that pests cannot penetrate into the shed. The office area, canteen and hygienic entrance need to be cleaned every week. Also, the walkways, drives and central passages need to be kept free of muck, dust and dirt as much as possible. A clear overview of any pesticides used must be available. Pest control is only carried out by someone with the correct training. You can also opt for bringing in an external firm.
4.
ENSURE 'CLEAN' MAINS AND DRINKING WATER
To prevent infectious germs getting in, it is important that the water pipes are clean and are checked regularly. Drinking water must also be checked annually. Dry feeders must only be from suppliers who produce feeders under GLP/GMP+. Ensure good, clean storage of feeders.
5.
CLEAN AND DISINFECT MATERIALS AND TOOLS
The facility needs to be equipped with its own tools and veterinary materials and equipment (including refrigerator). These tools and materials must never be allowed outside the facility and need to be cleaned after usage. Materials and equipment that come into the shed from outside always need to be disinfected. Introduction of materials and equipment needs to be recorded in a log book.
6.
ENSURE GOOD CLEANING AND DISINFECTION OF THE COMPARTMENTS
Compartments and stalls need to be thoroughly cleaned and disinfected every time they are empty. Whenever departments cannot be emptied for an extended period, a cleaning schedule is followed, in which the animals in the compartment remain there while cleaning takes place.
more information
Elpress is a specialist in the field of personal hygiene. Do you want to know what the options are in this area for your agricultural facility? Download our product brochure now.