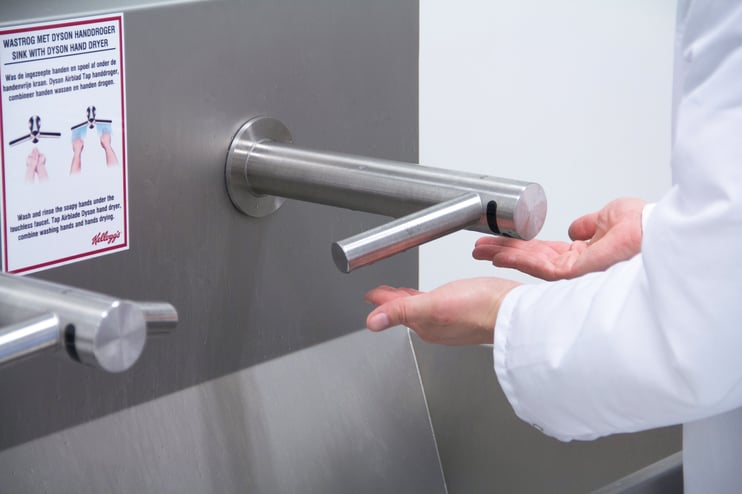 Our specialists are often asked what is necessary for proper hand hygiene. Should personnel in the food industry now wash their hands, disinfect their hands or both? Is hand hygiene required by law? The fact is that staff are a risk factor for transmission of bacteria or also known as cross-contamination. This can lead, in the worst case, for example, to food infections with all the far-reaching consequences. But what are actually the statutory requirements for hand hygiene of staff?
Statutory obligations for hand hygiene
The legislation on this subject indicates that the staff in the food industry strive for a high degree of hygiene and wear, if necessary, appropriate clothing. The term 'if necessary' must be interpreted on the basis of the hazard analysis that must be performed.
Besides the legal regulations around food hygiene, there are provisions from other agencies to meet quality systems, often with HACCP as the basis. Some examples are:
Clean hands or disinfect hands?
In both the washing and disinfecting of the hands, micro-organisms are removed. However, research shows that no complete disinfection takes place through just one of these actions. If the hands alone are disinfected, the disinfectant alcohol may, as a result of the dirt (still visible) on the hands, not penetrate properly. In addition, some viruses are not very sensitive to alcohol. The recommendation is therefore to thoroughly wash and dry your hands. Next, the hands should be disinfected. Always consult your chemical supplier to obtain the correct products.
Wash hands, when and how?
Washing hands is an absolute must after the actions below have been carried out.
When you work with different types of food
Example: You have been working with raw meat and are then going to work with vegetables.
After using the toilet
After blowing your nose
After coughing and / or sneezing in your hand
Before and after the treatment of a wound
Re-entering the production area, for example after a break
Your hands are effectively treated if you wash them for at least 20 seconds with an antimicrobial soap. It is also important that the following steps for washing your hands are followed (see illustration).
Disinfect hands, when and how?
Disinfecting hands in the food industry is effective when done after each wash. Also for disinfecting, going through the various steps is essential. A disinfectant generally consists of 70% alcohol.
Imposing hand hygiene with an access control
It can be a challenge to check all staff members regarding their participation in hand hygiene. Within the food industry, the hygiene lock is also a well-known solution. Typically, a hygiene lock involves a passage with controlled hygiene points, which must be performed before access to the production areas is provided. In practice, this means that the staff need to wash, dry and disinfect their hands before access is obtained. An effective and safe form of personal hygiene in the food industry.
Elpress has been working for over 40 years with the concept of personal hygiene and can offer a suitable and innovative solution for every situation. Please feel free to contact our professionals for advice on hygiene.
Source: Rediers H, Claes M, Krause S. (2007). Good hand hygiene in the food industry: some secrets revealed.iMIK.
More information?
Do you want more information about setting up a food-safe hygiene process? Download our handy whitepaper in which we will tell you everything about it.