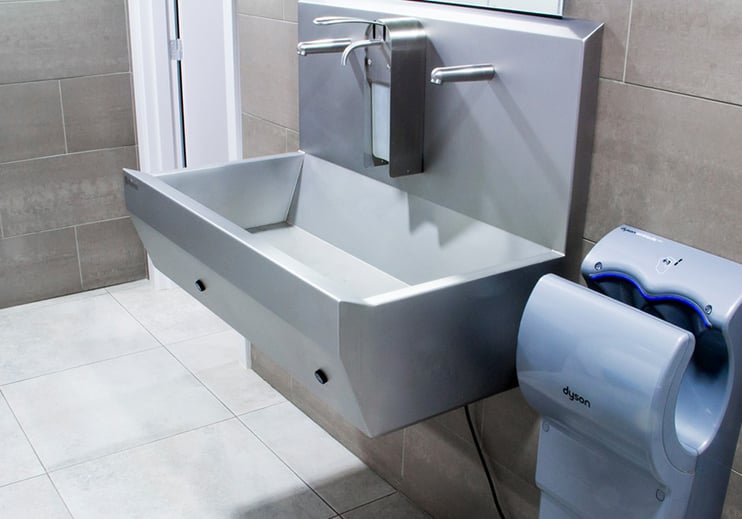 The International Food Standard - also known as IFS or IFS Food - is a worldwide standard for food safety that has been drawn up by HDE, the German food distributors branch organisation. Supermarket chains and other retailers are increasingly demanding that the suppliers of their products are in possession of this hygiene certificate.
For companies that work with food, satisfactory hand hygiene is of course an important part of personal hygiene. The IFS stipulates various criteria for this, that are checked by means of an audit. To be eligible for the IFS certificate, a company must meet the following criteria:
Good facilities for hand hygiene
According to the IFS, hand hygiene facilities must consist of at least:
running drinking water, at a suitable temperature for washing hands.
liquid soap, available via an automatic non-contact dosing unit or a hand-held soap dispenser.
hand drying equipment, such as an electric dryer or a paper towel dispenser.
And naturally toilets must also have adequate facilities for washing hands.
Added IFS requirements regarding high-care rooms
When highly perishable food products are processed in a production area, the IFS stipulates additional requirements for hand hygiene:
Hand-contact-free taps, which can be turned on via an electronic sensor or a knee control.
Hand disinfection, preferably without contact, using disinfection cylinders.
Signs and pictogrammes that emphasise the requirement for hand hygiene.
Waste bins that can be opened without using hands, for example by means of a foot pedal.
Access Check
To be able to meet the JFS criteria it is important to check the hand hygiene effectiveness. That is why Elpress advises to always use controlled access to production areas. This means that production workers can only enter the production area via a turnstile, which only opens if the hygiene sluice has been used properly and personal hygiene can therefore be guaranteed.
Checklist for personal hygiene
Would you like to know more about what measures you need to take in the field of personal hygiene to be able to qualify for a hygiene certificate? Then download our white paper 'Check-list Personal Hygiene'.