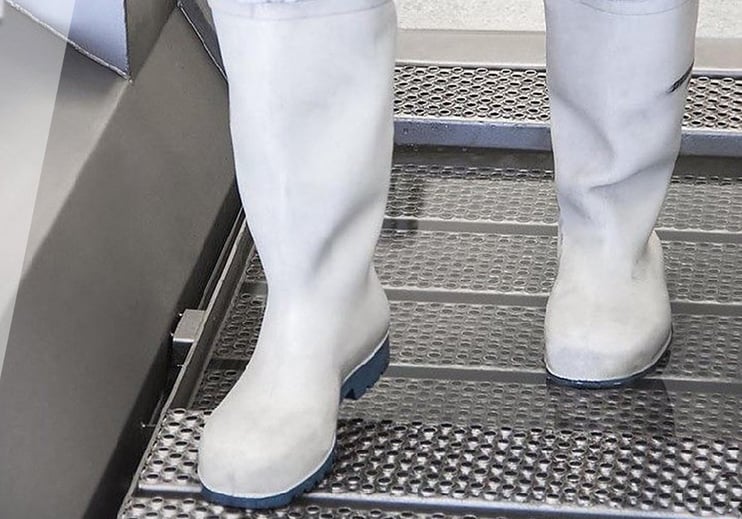 BRC Food - the abbreviated name for the BRC Global Standard for Food Safety - has been developed by the British Retail Consortium (BRC). Clients, such as supermarket chains and other retailers are increasingly demanding that the suppliers of their products are in possession of this hygiene certificate.
Within the BRC standard, various requirements are set for personal hygiene in companies that work with foodstuffs. Cleaning of boots and shoes is one of the criteria that must be met in order to qualify for the BRC certificate.

Footwear that come from outside the production and are used inside the area must be cleaned before entering.
In general, cleaning the soles and possibly the shafts by means of brushes is sufficient.
Cleaning boots and shoes for high-care areas
When entering a high-care area it is mandatory for an employee to change their footwear. It is forbidden to wear boots or shoes that come from outside. The boots or shoes from outside are placed in a shoe rack in the dressing room, the employee then steps over a bench into a "clean" zone and puts on footwear for this area. What often happens in practice is that the employees, before entering the high-care production area, disinfect their footwear by walking through a disinfection bath. This bath is usually part of the hygiene sluice, where the hands are disinfected at the same time.
Access check
Elpress recommends the use of turnstiles for the hygiene entrances that give access to the production area - whether low, medium or high-care. These turnstiles only open when the employee has completed the entire hygiene process, including the cleaning of footwear. These precautions minimise the risk of product contamination.
Checklist for personal hygiene
Would you like to know more about what measures you need to take in the field of personal hygiene to be able to qualify for a hygiene certificate? Then download our white paper 'Check-list Personal Hygiene'.